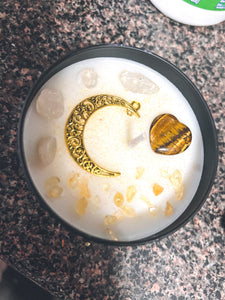 8oz Crystal Amber scented Candle topped with clear quartz and a crystal heart! 


Candle Care:
•Trim the wick to 1/4" length before every burn
•When burning your candle for the first time burn for 2hrs or until melted wax creates an even melt pool to avoid tunneling and ensures that your candle will burn evenly     •toppings on crystals will sink into the wax pool and after burning you can keep the crystals!
Absolutely beautiful!!!
Loved the candles and wax melts! They smell incredible and are absolutely beautiful!!! Highly recommend!
Love love love
I purchased 5 for gifts and everyone loved them.
Everything I anticipated and more!
These are by far the cutest candles and the smell is inedible. I definitely recommend Cali Dream Homenade!